Osteoporosis Webinar
Monday 20th November 2023, from 10am to 11am on Zoom. Book your place now!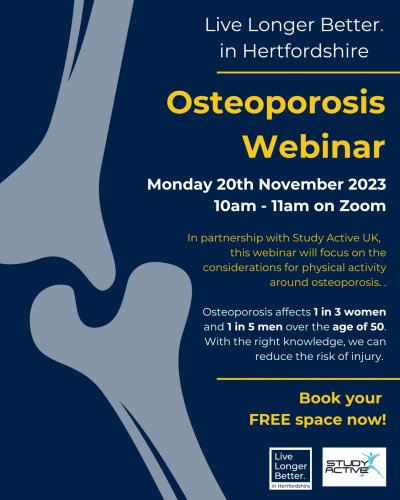 This webinar, in partnership with Study Active UK, will focus on the considerations for physical activity around osteoporosis. We will discuss the prevalence, the main causes, the most common fracture sites and osteopenia. This is an important topic as osteoporosis affects 1 in 3 women and 1 in 5 men over the age of 50. With the right knowledge, we can reduce the risk of injury.
Join us on Monday 20th November from 10am on Zoom.
Sign up for our General Newsletter...
Receive the latest updates to your inbox.
---
Sign up for our Quarterly Funding Newsletter…
Receive the latest funding opportunities to your inbox.
---
Funding Newsletter
Our Funding Newsletter keeps you up to date with all the latest news and funding pots available.
---
Get in touch…
If you have a generic question please email the Herts Sport & Physical Activity Partnership team: hspinfo@herts.ac.uk